Watermark recognition is a key problem for archivists and historians. We are developing a Computer Vision approach to recognise tens of thousands of variants from a single photograph. Learn more on our project website!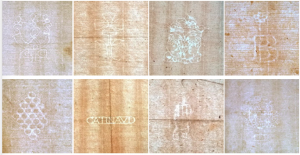 This project is in collaboration with the Filigranes pour tous project, with whom we are developing a web app for easy large scale watermark identification.
Publications:
Large-Scale Historical Watermark Recognition: dataset and a new consistency-based approach, Xi Shen, Ilaria Pastrolin, Oumayma Bounou, Spyros Gidaris, Marc Smith, Olivier Poncet and Mathieu Aubry, arXiv, 2019, PDF, Project page.